Returning To Piano Lessons After A Break? Start Here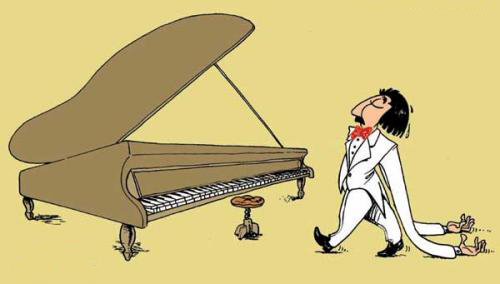 It happens to the best of us... We take up a new activity like learning piano with the greatest of intentions.
Initially we do well and we stick at it for a while but sooner or later life inevitably throws us a curveball that prevents or makes it difficult to maintain a practice routine.
And so we end up taking a break from lessons for a while.
Then when we come back to our lessons, we find we're a bit rusty on the things we had previously been progressing quite well with.
In this scenario, a common mistake students make is they try to just pick up from where they left off, and then they find that they are a bit rusty in one or more areas (note reading is a common example).
Frustrated at not being able to read notes as well as they had been able to, some students compound their dilemma by seeking assistance (outside of the Musiah program) often from games / apps that are not at all appropriate for encouraging the development of good note reading.
What's wrong with this picture and what can be done to help you get back on the right path as quickly and effectively as possible?
There are two main elements to the answer:
1) Patience and
2) Revision
Step 1 — Patience
It's perfectly natural (but utterly unrealistic) when coming back to piano after a lengthy break to expect to be as proficient as you were when you last practiced.
When you find that you are not, the trick is to not be impatient – because impatience is what leads you to look unnecessarily elsewhere for a quick fix (that doesn't really exist) when everything you need is right at your fingertips... which brings me to Step 2 – Revision.
Step 2 – Revision
What's missing from the above equation (apart from patience) is revision.
This is really all you need, but without patience you will rail against it and generally try to avoid that which is the most efficient solution to your current dilemma — revision — specifically of note reading and also playing.
How do you revise note reading if you are a bit rusty?
In the Games Area of the Musiah piano lessons app, there are fantastic stand-alone note reading games and note playing games that are perfect for revising or improving your note reading skills at any time.
Alternatively, simply repeating the below lesson modules will have much the same benefit.
In lessons you have done before, you can navigate directly to these modules using the "Navigation" in the lesson area of Musiah Unity (Beta).
Hint: If you are not already a Musiah student, our Free Online Piano Lessons 14 Day Trial is a great way to get back into the swing of things.
Lesson modules to help you revise note reading
Lesson 3: Revision Game
Lesson 6: LH CEG (revision game)
Lesson 6: LH CDEFG (revision game)
Lesson 7: RH CEG (revision game)
Lesson 7: RH CDEFG (revision game)
Lesson 8: LH CDEFGA (revision game)
Lesson 9: LH CDEFG
Lesson 9: RH CDEFG (revision game)
Lesson 11: LH CDEFG
Lesson 11: RH CDEFG (note playing game)
Lesson 11: LH CEG and RH CEG together (note playing game)
Lesson 13: LH C to G and RH B to G (revision game)
Lesson 16: Various notes (note playing game)
Lesson 20: DEFGA in each hand (revision game)
Lesson 22: BH on CDEFG (note playing game)
Lesson 22: Combinations of notes (note playing game)
Lesson 31: Note and rest lengths (revision game)
Lesson 31: Note and rest names (revision game)
Lesson 32: Treble lines notes (revision game)
Lesson 32: Treble spaces notes (revision game)
Lesson 32: CBAG (revision game)
Lesson 33: All treble notes (revision game)
Lesson 34: Bass lines (revision game)
Lesson 34: Bass spaces (revision game)
Lesson 34: ABCDE above bass stave (revision game)
Lesson 35: All base notes (revision game)
Lesson 40: All LH notes (revision game)
Lesson 40: All treble notes (revision game)
Lesson 40: All treble and bass notes so far (revision game)
Lesson 42: RH ABCDE (revision game)
There are more revision modules than those listed above, but the above selection should be enough to get most students back on track.
And then there's the other part of revision — playing
This part is a little less onerous. The basic idea is to simply re-audition pieces you have already completed. (Within the context of the Musiah piano lessons course, auditioning a piece means playing it for Musiah — your A.I. virtual piano teacher — in time with a backing track)
Because you won't have played / practiced these pieces for some time, simply playing through them with the backing track is, to an extent, like sight-reading them.
Playing pieces that you are vaguely (but not very) familiar with is a good way to improve your note reading, plus it also helps get your fingers moving again and generally assists with restoring your coordination and related abilities.
Note: It is best to start with your note-reading revision directly, e.g. by playing some note-reading games in the Games Area OR repeating the above lesson modules, and then turn your attention to playing through your previously learned pieces.
What if you have had a really long break from piano lessons?
Just to clarify, the above thoughts and suggestions are primarily for students (particularly Musiah students) who have taken a break from lessons for a few weeks or months.
If you are returning to piano after a hiatus of may years, your options are a little different, but broadly the principals are the same.
With just a little patience, by revising the basics of note reading and gradually building up your playing skills to their true level, you'll be surprised at what you can achieve in as little as a couple of weeks.
For more information about options available for students who have learned before, please see our page on Advanced Piano Lessons. (Scroll down to the heading "I'm An Advanced Piano Student - Do I Have To Start At The Beginning?")
However long you have been away from your lessons, there's no time like the present for getting back into your piano practice.
If you, dear reader, would like to see how Musiah's online piano lessons can help you regain your note-reading and playing skills, why not take our Free 14 Day Trial.
And of course, if you have any questions for me personally, please feel free to contact me HERE.
Thanks for reading,
Brendan Hogan L.Mus.A, A.Mus.A.
Piano Teacher & Musiah Inventor
RECOMMENDED ARTICLES
Online Piano lessons – Do They Work?
Piano Lessons For Adults
Piano Lessons For Kids
Piano Lessons For Beginners
Advanced Piano Lessons
Free Piano Lessons (on piano technique)
The Best Piano Method
The Best Piano Learning App
Learning To Play Piano As An Adult – Why it's easier than you think!
---
Related Articles